Most ISPs do not require PPPoE credentials. If you are certain this is an ISP requirement in your setup, we kindly ask that you get in touch with your ISP to verify that they do in fact require PPPoE authentication and to provide you with the correct credentials to enter into your FlashRouter.
Before you enter your PPPoE credentials, you should have already setup your FlashRouter in a Single Router Setup with correct wiring. Once you enter PPPoE credentials you should then be able to connect to the internet.
If you are using a Dual Router Setup there is no need to enter PPPoE credentials if they are already entered in the existing router. You can disregard this article.
Enter your PPPoE credentials
DD-WRT Firmware
Navigate to Setup > Basic Setup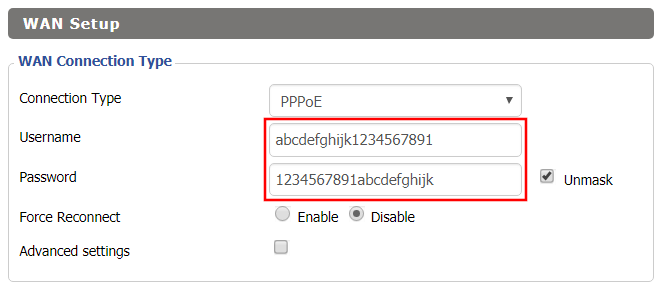 Set the Connection Type dropdown to PPPoE.
Enter your ISP assigned PPPoE username and password.
Click Apply Settings.
Power cycle your network devices
Power off your ISP modem and the FlashRouter.
Power on the ISP modem and wait for it to fully boot up.
Power on the FlashRouter.
Verify a successful Internet connection
Once the FlashRouter is booted up connect one of your devices to the FlashRouter via Ethernet or Wireless.
Visit any website and make sure the page fully loads. Once you have verified a successful Internet connection, begin connecting your network devices to the FlashRouter via wired or WiFi.
Please be aware that our support is not able to replicate PPPoE issues on our end, which makes them challenging to troubleshoot. In the event of an issue we recommend using a Dual Router Setup.