Service Plan FAQs
Is the service plan a one time purchase or does it renew?
All FR service plans automatically renew on a quarterly or annual basis based on the term initially purchased. A reminder e-mail will be sent one week prior to renewal. In your FlashRouter account panel, you can cancel the plan at any time to stop any further renewals.
What is included with a FlashRouter?
On-demand Installation of enhanced firmware and our exclusive FlashRouters VPN Privacy App.
Custom setup guide.
Power cord and an ethernet cable.
Individual VPN Account Setup/Pre-configuration (On Request)
1 year open source hardware warranty.
30 day satisfaction guarantee.
Initial basic setup assistance via e-mail. For any advanced setups/configurations, live chat or remote assistance, a service plan purchase is required.
Does the service plan include a VPN subscription?
A subscription to a VPN does not come with a FlashRouter or Service plan. If you are planning to use a VPN, you would need to sign up for one separately, directly from a provider.
Need assistance in finding a VPN Provider? Please visit our recent VPN Provider Best Seller List.
Plug and Play VPN Support
Unlike other VPN Router providers, FlashRouters is proud to offer free VPN service integration with any purchase.
To receive a plug and play with VPN device, you will need to provide our team with the credentials from your VPN provider subscription.
IMPORTANT NOTE: This is not required but recommended for users who wish to have the simplest, most seamless experience when the FlashRouter arrives. You can always change the password when the device arrives if you wish as well.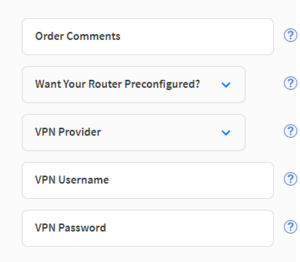 To have your router VPN pre-configured:
Select Yes from the "Want Your Router Preconfigured?" on the Payment Page during check out.
Select your VPN provider. If you don't see your VPN listed select "Other" and you will see an additional field to input who your provider is.
Enter your your VPN username and password
For ExpressVPN Firmware Routers there will be an additional box for your activation code.
Please note:  If you do not enter a server location request in "Order Comments", we will automatically start the device with the closest/optimal server for the location we are shipping the device by default. A location has to be added to the initial configuration for plug and play encryption security to occur on the device.
Do I have to buy a service plan?
Our routers are priced for the custom upgrades performed at our warehouse, testing expenses and keeping the FlashRouter App update to date.
Our service plan has three levels as an optional add-on with your purchase to get continued direct assistance from our team. This is especially useful to customers who are less tech savvy and want direct access to our support team to make sure their network is running exactly how they desire. Here is how these plans differ
Bronze – Basic E-mail Support
Silver – E-mail and Live Chat Support.
Gold – E-mail, Live Chat, and Remote One-on-One Sessions
Each situation and user has different needs and expertise. Our team of US-based support agents are highly trained specialists in VPN and DD-WRT router setup. From firmware updates to networking configuration/troubleshooting,solutions, the purpose of our Service Plans is to help our customers in whatever level they deem necessary.
Does FlashRouters offer phone support?
At this time, we do not provide phone support with our service plans. We have tested phone support for networking troubleshooting in the past but have found that on average caused us to help less customers in a less efficient manner. However, with a purchase of a Gold Service Plan, customers can schedule 1-on-1 remote support sessions via Teamviewer with our engineers and they will provide a hands-on, personal solution, to any problems you may be facing.
Do I need a Service Plan for a firmware upgrade?
Firmware upgrades are free of charge to any FlashRouter customer!
You can visit our support center and select your specific router model to upgrade your firmware based on the recommendations provided.
If you want the help of our Support Team to assist in this upgrade, you can always sign up for our Gold Service Plan and schedule a 1-on-1 Teamviewer session in which our trained engineers will take care of the upgrade for you!
What does the warranty cover?
Our complimentary 1-year hardware warranty does not include tech support outside. If your router suffers hardware failure within 365 days from the date you received the unit, then we will gladly replace your router with another fully tested one. For more information regarding our warranty and return policy, please check out our warranty and return section.
Can I purchase a router without a service plan and subscribe later?
Yes, you may purchase a service plan at any time. However, we can't guarantee any pricing, or apply any previously offered discounts or specific features at that later date.