Most ISPs only support IPv4. Unless your ISP supports IPv6 then enabling it on the FlashRouter will not enable it across your network.
For most VPN users IPv6 should remain disabled as the VPN connection was designed to operate under IPv4 addresses only. Enabling IPv6 in this instance may compromise the security of the VPN tunnel.
We typically only recommend enabling IPv6 if you are not using VPN or if your VPN provider requires that IPv6 be enabled.
Enable IPv6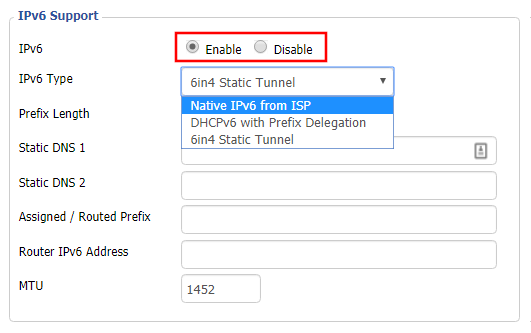 Set IPv6 to Enable.
Select Native IPv6 from ISP in the dropdown.
If you have specific IPv6 DNS servers you would like to add you can add them in the Static DNS fields or leave those fields blank.
Click Apply Settings.
Power cycle your FlashRouter
Power your FlashRouter off and then power it back on by unplugging and then plugging it back in or using the button on the back of the FlashRouter.
Verify a successful IPv6 connection
Once the FlashRouter is finished powering back up, connect one of your devices to the FlashRouter via Ethernet or Wireless.
Visit  http://ipv6-test.com/ where you should see Supported under IPv6 connectivity if your ISP supports IPv6 and your modem is setup to passthrough IPv6.
Please be aware that we can not replicate ISP specific IPv6 issues, which makes them challenging to troubleshoot. We recommend contacting your ISP as the first step of troubleshooting.